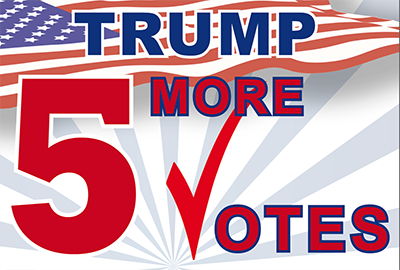 What Can We Do before 1/20/2021?
---
Reasons
1.Between now and January 20th there is still a chance the state legislatures can de-certify the Biden Electors and Certify the Trump Electors effectively overturning the results of the election for their state. If that happens the Congress of the United States will have to do the same. The State legislatures are back in session beginning Monday(1-11-21) and so there is no need for the Governors or Secretaries of states to be involved in their decision.
2.Even if we are unsuccessful in getting the state legislatures to overturn the results before Inauguration day this needs to be done anyway because the state legislatures need to fix the problems that occurred in the 2020 election and take back over control of elections, replace the dominion machines, change to in-person voting, clean up the voter roles, etc. This needs to happen to ensure that we are able to have free and fair elections in the future.
How to ...
1.) Copy email addresses and paste to your email BCC: line;
2.) Copy letter of your choice and paste to body of email or write your own letter;
3.) Make your own subject line;
4.) Sign with your name, address, and phone #;
5.) Send;
6.) Repeat for next group.

---
Go to State:
AZ(48)
|
GA(145)
|
MI(94)
|
NV(33)
|
PA(131)
|
WI(93)
|
Sample Letters
|
---
Email List for AZ Senators:
rgray@azleg.gov; kfann@azleg.gov; sborrelli@azleg.gov; efarnsworth@azleg.gov; sallen@azleg.gov; pboyer@azleg.gov; kbrophymcgee@azleg.gov; hcarter@azleg.gov; dfarnsworth@azleg.gov; dgowan@azleg.gov; skerr@azleg.gov; vleach@azleg.gov; dlivingston@azleg.gov; jmesnard@azleg.gov; tpace@azleg.gov; fpratt@azleg.gov; mugenti-rita@azleg.gov;
---
Email List for AZ Representatives:
rbowers@azleg.gov; wpetersen@azleg.gov; bnutt@azleg.gov; tshope@azleg.gov; jallen@azleg.gov; nbarto@azleg.gov; lbiasiucci@azleg.gov; wblackman@azleg.gov; sbolick@azleg.gov; ncampbell@azleg.gov; fcarroll@azleg.gov; rcobb@azleg.gov; dcook@azleg.gov; tdunn@azleg.gov; jfillmore@azleg.gov; mfinchem@azleg.gov; tgrantham@azleg.gov; ggriffin@azleg.gov; jkavanagh@azleg.gov; akern@azleg.gov; jlawrence@azleg.gov; josborne@azleg.gov; kpayne@azleg.gov; spierce@azleg.gov; trivero@azleg.gov; broberts@azleg.gov; bthorpe@azleg.gov; btoma@azleg.gov; ktownsend@azleg.gov; mudall@azleg.gov; jweninger@azleg.gov;
---
Email List for GA Senators:
john.albers@senate.ga.gov ; denese.sampson@senate.ga.gov; brandon.beach@senate.ga.gov; ellis.black@senate.ga.gov; matt.brass@senate.ga.gov; dean.burke@senate.ga.gov; bill.cowsert@senate.ga.gov; greg.dolezal@senate.ga.gov; mike.dugan@senate.ga.gov; frank.ginn@senate.ga.gov; steve.gooch@senate.ga.gov; marty.harbin@senate.ga.gov; tyler.harper@senate.ga.gov; billheath@billheath.net; billy.hickman@senate.ga.gov; chuck.hufstetler@senate.ga.gov; burt.jones@senate.ga.gov; john.kennedy@senate.ga.gov; kay.kirkpatrick@senate.ga.gov; william.ligon@senate.ga.gov; p.k.martin@senate.ga.gov; butch.miller@senate.ga.gov; jeff.mullis@senate.ga.gov; chuck.payne@senate.ga.gov; randy.robertson@senate.ga.gov; jesse.stone@senate.ga.gov; brian.strickland@senate.ga.gov; diego.santana@senate.ga.gov; bruce.thompson@senate.ga.gov; blake.tillery@senate.ga.gov; lindsey.tippins@senate.ga.gov; renee.unterman@senate.ga.gov; larry.walker@senate.ga.gov; ben.watson@senate.ga.gov; john.wilkinson@senate.ga.gov;
---
Email List for GA Representatives:
mandi.ballinger@house.ga.gov; timothy.barr@house.ga.gov; matt.barton@house.ga.gov; dave.belton@house.ga.gov; tommy.benton@house.ga.gov; shaw.blackmon@house.ga.gov; josh.bonner@house.ga.gov; james.burchett@house.ga.gov; jon.burns@house.ga.gov; michael.caldwell@house.ga.gov; joe.campbell@house.ga.gov; wes.cantrell@house.ga.gov; kasey.carpenter@house.ga.gov; john.carson@house.ga.gov; mike.cheokas@house.ga.gov; david.clark@house.ga.gov; j.collins@house.ga.gov; kevin.cooke@house.ga.gov; sharon.cooper@house.ga.gov; john.corbett@house.ga.gov; katie.dempsey@house.ga.gov; robert.dickey@house.ga.gov; matt.dollar@house.ga.gov; matt.dubnik@house.ga.gov; emory.dunahoo@house.ga.gov; chuck.efstration@house.ga.gov; ginny.ehrhart@house.ga.gov; terry.england@house.ga.gov; chris.erwin@house.ga.gov; barry.fleming@house.ga.gov; houston.gaines@house.ga.gov; matthew.gambill@house.ga.gov; sheri.gilligan@house.ga.gov; micah.gravley@house.ga.gov; gerald.greene@house.ga.gov; joseph.gullett@house.ga.gov; matt.gurtler@house.ga.gov; brett.harrell@house.ga.gov; lee.hawkins@house.ga.gov; dewayne.hill@house.ga.gov; bill.hitchens@house.ga.gov; don.hogan@house.ga.gov; susan.holmes@house.ga.gov; penny.houston@house.ga.gov; rick.jasperse@house.ga.gov; jan.jones@house.ga.gov; jeff.jones@house.ga.gov; todd.jones@house.ga.gov; trey.kelley@house.ga.gov; tom.kirby@house.ga.gov; david.knight@house.ga.gov; john.lahood@house.ga.gov; jodi.lott@house.ga.gov; eddie.lumsden@house.ga.gov; chuck.martin@house.ga.gov; karen.mathiak@house.ga.gov; danny.mathis@house.ga.gov; tom.mccall@house.ga.gov; steven.meeks@house.ga.gov; martin.momtahan@house.ga.gov; colton.moore@house.ga.gov; greg.morris@house.ga.gov; marc.morris@house.ga.gov; mark.newton@house.ga.gov; randy.nix@house.ga.gov; butch.parrish@house.ga.gov; don.parsons@house.ga.gov; jesse.petrea@house.ga.gov; clay.pirkle@house.ga.gov; alan.powell@house.ga.gov; jimmy.pruett@house.ga.gov; ken.pullin@house.ga.gov; david.ralston@house.ga.gov; bert.reeves@house.ga.gov; trey.rhodes@house.ga.gov; bonnie.rich@house.ga.gov; jason.ridley@house.ga.gov; terry.rogers@house.ga.gov; dale.rutledge@house.ga.gov; steven.sainz@house.ga.gov; mitchell.scoggins@house.ga.gov; ed.setzler@house.ga.gov; deborah.silcox@house.ga.gov; philip.singleton@house.ga.gov; lynn.smith@house.ga.gov; richard.smith@house.ga.gov; vance.smith@house.ga.gov; ron.stephens@house.ga.gov; jan.tankersley@house.ga.gov; kevin.tanner@house.ga.gov; steve.tarvin@house.ga.gov; darlene.taylor@house.ga.gov; scot.turner@house.ga.gov; dale.washburn@house.ga.gov; sam.watson@house.ga.gov; andrew.welch@house.ga.gov; bill.werkheiser@house.ga.gov; marcus.wiedower@house.ga.gov; noel.williams@house.ga.gov; rick.williams@house.ga.gov; bruce.williamson@house.ga.gov; bill.yearta@house.ga.gov;
---
Email List for MI Senators:
SenMShirkey@senate.michigan.gov; senbalexander@senate.michigan.gov; senjananich@senate.michigan.gov; SenTBarrett@senate.michigan.gov; senrbayer@senate.michigan.gov; SenJBizon@senate.michigan.gov; senwbrinks@senate.michigan.gov; senmbullock@senate.michigan.gov; senschang@senate.michigan.gov; senegeiss@senate.michigan.gov; senchertel@senate.michigan.gov; senahollier@senate.michigan.gov; senjirwin@senate.michigan.gov; SenRJohnson@senate.michigan.gov; SenKLaSata@senate.michigan.gov; SenDLauwers@senate.michigan.gov; SenPLucido@senate.michigan.gov; SenMMacDonald@senate.michigan.gov; SenPMacGregor@senate.michigan.gov; SenEMcBroom@senate.michigan.gov; sensmccann@senate.michigan.gov; senmmcmorrow@senate.michigan.gov; senjmoss@senate.michigan.gov; SenANesbitt@senate.michigan.gov; SenROutman@senate.michigan.gov; sendpolehanki@senate.michigan.gov; SenJRunestad@senate.michigan.gov; senssantana@senate.michigan.gov; SenWSchmidt@senate.michigan.gov; SenJStamas@senate.michigan.gov; SenLTheis@senate.michigan.gov; SenCVanderWall@senate.michigan.gov; SenRVictory@senate.michigan.gov; senpwojno@senate.michigan.gov; SenDZorn@senate.michigan.gov;
---
Email List for MI Representatives:
LeeChatfield@house.mi.gov; LynnAfendoulis@house.mi.gov; ThomasAlbert@house.mi.gov; JulieAlexander@house.mi.gov; SueAllor@house.mi.gov; sarahanthony@house.mi.gov; JosephBellino@house.mi.gov; RyanBerman@house.mi.gov; AnnBollin@house.mi.gov; TommyBrann@house.mi.gov; juliebrixie@house.mi.gov; JulieCalley@house.mi.gov; TristonCole@house.mi.gov; KathyCrawford@house.mi.gov; GaryEisen@house.mi.gov; DianaFarrington@house.mi.gov; GrahamFiller@house.mi.gov; BenFrederick@house.mi.gov; AnnetteGlenn@house.mi.gov; RepPhilGreen@house.mi.gov; BethGriffin@house.mi.gov; MattHall@house.mi.gov; RogerHauck@house.mi.gov; ShaneHernandez@house.mi.gov; MicheleHoitenga@house.mi.gov; PamelaHornberger@house.mi.gov; GaryHowell@house.mi.gov; MarkHuizenga@house.mi.gov; BrandtIden@house.mi.gov; LarryInman@house.mi.gov; StevenJohnson@house.mi.gov; BronnaKahle@house.mi.gov; EricLeutheuser@house.mi.gov; SarahLightner@house.mi.gov; JimLilly@house.mi.gov; JamesLower@house.mi.gov; MattMaddock@house.mi.gov; SteveMarino@house.mi.gov; GregMarkkanen@house.mi.gov; LukeMeerman@house.mi.gov; AaronMiller@house.mi.gov; MikeMueller@house.mi.gov; JackOMalley@house.mi.gov; BradPaquette@house.mi.gov; JohnReilly@house.mi.gov; DaireRendon@house.mi.gov; AndreaSchroeder@house.mi.gov; JasonSheppard@house.mi.gov; BradleySlagh@house.mi.gov; ScottVanSingel@house.mi.gov; GregVanWoerkom@house.mi.gov; HankVaupel@house.mi.gov; RodneyWakeman@house.mi.gov; MichaelWebber@house.mi.gov; PaulineWendzel@house.mi.gov; JasonWentworth@house.mi.gov; MaryWhiteford@house.mi.gov; DouglasWozniak@house.mi.gov; JeffYaroch@house.mi.gov;
---
email list for nv senators:
pete.goicoechea@sen.state.nv.us; scott.hammond@sen.state.nv.us; ira.hansen@sen.state.nv.us; joe.hardy@sen.state.nv.us; ben.kieckhefer@sen.state.nv.us; keith.pickard@sen.state.nv.us; heidi.gansert@sen.state.nv.us; james.settelmeyer@sen.state.nv.us
---
email list for nv representatives:
chris.edwards@asm.state.nv.us; john.ellison@asm.state.nv.us; gregory.hafen@asm.state.nv.us; john.hambrick@asm.state.nv.us; alexis.hansen@asm.state.nv.us; melissa.hardy@asm.state.nv.us; al.kramer@asm.state.nv.us; lisa.krasner@asm.state.nv.us; glen.leavitt@asm.state.nv.us; tom.roberts@asm.state.nv.us; robin.titus@asm.state.nv.us; jill.tolles@asm.state.nv.us; jim.wheeler@asm.state.nv.us
---
Email List for PA Senators:
jcorman@pasen.gov; dargall@pasen.gov; darnold@pasen.gov; raument@pasen.gov; lbaker@pasen.gov; cbartolotta@pasen.gov; mbrooks@pasen.gov; pbrowne@pasen.gov; jdisanto@pasen.gov; shutchinson@pasen.gov; tkillion@pasen.gov; Wlangerholc@pasen.gov; Dlaughlin@pasen.gov; smartin@pasen.gov; dmastriano@pasen.gov; bmensch@pasen.gov; mregan@pasen.gov; jscarnati@pasen.gov; mscavello@pasen.gov; pstefano@pasen.gov; rtomlinson@pasen.gov; evogel@pasen.gov; jward@pasen.gov; kward@pasen.gov; gyaw@pasen.gov;
---
Email List for PA Representatives:
sbarrar@pahousegop.com; abernstine@pahousegop.com; kboback@pahousegop.com; sborowicz@pahousegop.com; rbrown@pahousegop.com; mcauser@pahousegop.com; bcook@pahousegop.com; jcox@pahousegop.com; lculver@pahousegop.com; bcutler@pahousegop.com; gday@pahousegop.com; sdelozie@pahousegop.com; rdiamond@pahousegop.com; mdowling@pahousegop.com; gdunbar@pahousegop.com; cdush@pahousegop.com; tecker@pahousegop.com; jemrick@pahousegop.com; geverett@pahousegop.com; ffarry@pahousegop.com; mfee@pahousegop.com; jfritz@pahousegop.com; mgabler@pahousegop.com; vgaydos@pahousegop.com; mgillen@pahousegop.com; kgillesp@pahousegop.com; bgleim@pahousegop.com; jgregory@pahousegop.com; kgreiner@pahousegop.com; sgrove@pahousegop.com; mhahn@pahousegop.com; dheffley@pahousegop.com; shelm@pahousegop.com; thenness@pahousegop.com; jhershey@pahousegop.com; dhickern@pahousegop.com; rirvin@pahousegop.com; rljames@pahousegop.com; mjones@pahousegop.com; bjozwiak@pahousegop.com; jkail@pahousegop.com; akaufer@pahousegop.com; dkeefer@pahousegop.com; mkeller@pahousegop.com; kklunk@pahousegop.com; jknowles@pahousegop.com; jlawrenc@pahousegop.com; alewis@pahousegop.com; rmackenzie@pahousegop.com; zmako@pahousegop.com; dmaloney@pahousegop.com; jmarshal@pahousegop.com; kmasser@pahousegop.com; smentzer@pahousegop.com; dmetcalf@pahousegop.com; cmetzgar@pahousegop.com; nmihalek@pahousegop.com; dmillard@pahousegop.com; bmiller@pahousegop.com; lmizgorski@pahousegop.com; dmoul@pahousegop.com; tmurt@pahousegop.com; enelson@pahousegop.com; doberlan@pahousegop.com; toneal@pahousegop.com; jortitay@pahousegop.com; cowlett@pahousegop.com; mpeifer@pahousegop.com; tpickett@pahousegop.com; tpolinchock@pahousegop.com; mpuskaric@pahousegop.com; jpyle@pahousegop.com; cquinn@pahousegop.com; jrader@pahousegop.com; klrapp@pahousegop.com; mreese@pahousegop.com; jrigby@pahousegop.com; broae@pahousegop.com; grothman@pahousegop.com; fryan@pahousegop.com; tsankey@pahousegop.com; ssaylor@pahousegop.com; pschemel@pahousegop.com; lschmitt@pahousegop.com; mschroeder@pahousegop.com; jsimmons@pahousegop.com; csonney@pahousegop.com; cstaats@pahousegop.com; tstephen@pahousegop.com; jstruzzi@pahousegop.com; wthomas@pahousegop.com; mtobash@pahousegop.com; mtoepel@pahousegop.com; jtopper@pahousegop.com; rwarner@pahousegop.com; pwentling@pahousegop.com; jwheeland@pahousegop.com; mwhite@pahousegop.com; dzimmerman@pahousegop.com;
---
Email List for WI Senators:
Sen.Fitzgerald@legis.wisconsin.gov; Sen.Roth@legis.wisconsin.gov; Sen.Marklein@legis.wi.gov; Sen.Testin@legis.wisconsin.gov; Sen.Wanggaard@legis.wisconsin.gov; Sen.Bernier@legis.wisconsin.gov; Sen.Cowles@legis.wisconsin.gov; Sen.Craig@legis.wisconsin.gov; Sen.Darling@legis.wisconsin.gov; Sen.Feyen@legis.wi.gov; Sen.Jacque@legis.wisconsin.gov; Sen.Kapenga@legis.wisconsin.gov; Sen.Kooyenga@legis.wisconsin.gov; Sen.LeMahieu@legis.wisconsin.gov; Sen.Nass@legis.wisconsin.gov; Sen.Olsen@legis.wisconsin.gov; Sen.Petrowski@legis.wisconsin.gov; Sen.Stroebel@legis.wisconsin.gov;
---
Email List for WI Representatives:
Rep.Allen@legis.wisconsin.gov; Rep.August@legis.wisconsin.gov; Rep.Ballweg@legis.wisconsin.gov; Rep.Born@legis.wisconsin.gov; Rep.Brandtjen@legis.wisconsin.gov; Rep.Rob.Brooks@legis.wisconsin.gov; Rep.Dittrich@legis.wisconsin.gov; Rep.Duchow@legis.wisconsin.gov; Rep.Edming@legis.wisconsin.gov; Rep.Felzkowski@legis.wisconsin.gov; Rep.Gundrum@legis.wisconsin.gov; Rep.Horlacher@legis.wisconsin.gov; Rep.Hutton@legis.wisconsin.gov; Rep.Jagler@legis.wisconsin.gov; Rep.James@legis.wisconsin.gov; Rep.Katsma@legis.wisconsin.gov; Rep.Kerkman@legis.wisconsin.gov; Rep.Kitchens@legis.wisconsin.gov; Rep.Knodl@legis.wisconsin.gov; Rep.Krug@legis.wisconsin.gov; Rep.Kuglitsch@legis.wisconsin.gov; Rep.Kulp@legis.wisconsin.gov; Rep.Kurtz@legis.wisconsin.gov; Rep.Loudenbeck@legis.wisconsin.gov; Rep.Macco@legis.wisconsin.gov; Rep.Magnafici@legis.wisconsin.gov; Rep.Murphy@legis.wisconsin.gov; Rep.Mursau@legis.wisconsin.gov; Rep.Neylon@legis.wisconsin.gov; Rep.Novak@legis.wisconsin.gov; Rep.Oldenburg@legis.wisconsin.gov; Rep.OttJ@legis.wisconsin.gov; Rep.Petersen@legis.wisconsin.gov; Rep.Petryk@legis.wisconsin.gov; Rep.Plumer@legis.wisconsin.gov; Rep.Pronschinske@legis.wisconsin.gov; Rep.Quinn@legis.wisconsin.gov; Rep.Ramthun@legis.wisconsin.gov; Rep.Rodriguez@legis.wisconsin.gov; Rep.Rohrkaste@legis.wisconsin.gov; Rep.Sanfelippo@legis.wisconsin.gov; Rep.Schraa@legis.wisconsin.gov; Rep.Skowronski@legis.wisconsin.gov; Rep.Snyder@legis.wisconsin.gov; Rep.Sortwell@legis.wisconsin.gov; Rep.Spiros@legis.wisconsin.gov; Rep.Stafsholt@legis.wisconsin.gov; Rep.Steffen@legis.wisconsin.gov; Rep.Steineke@legis.wisconsin.gov; Rep.Summerfield@legis.wisconsin.gov; Rep.Swearingen@legis.wisconsin.gov; Rep.Tauchen@legis.wisconsin.gov; Rep.Thiesfeldt@legis.wisconsin.gov; Rep.Tittl@legis.wisconsin.gov; Rep.Tranel@legis.wisconsin.gov; Rep.Tusler@legis.wisconsin.gov; Rep.VanderMeer@legis.wisconsin.gov; Rep.Vorpagel@legis.wisconsin.gov; Rep.Vos@legis.wisconsin.gov; Rep.Wichgers@legis.wisconsin.gov; Rep.Wittke@legis.wisconsin.gov; Rep.Zimmerman@legis.wisconsin.gov;
---
Sample Letter
---
Representative/Senator,

The Governor and Secretary of State have certified a Fraudulent Election. The constitution gave you the sole authority to choose your electors and you have watched the electors go to the wrong candidate and also watched as the US Congress certified the fraud. Both actions were knowingly illegal which makes them criminal. You still have a chance to fix this before January 20th Inauguration day.

The people who voted for our President will not let this go. We will never accept Biden as our President and we will unify together to make sure that those elected officials who committed the crimes or were complicit in them by doing nothing or voting for them face a primary challenge and are not re-elected to any public office. The citizens, We the People, will not let our Country be stolen by a bunch of thieves. It is incumbent on you to do your job and right this wrong and get this election overturned immediately.

Thank you, I know you will do the right thing!
XXXX

Address:XXXXXX
Phone Number:XXXXXXX